Install Sony XAV-AX5000 for 2013 Honda CR-V EX-L (No Navigation version)
First at all, Whenever you mess with car electronics,
the first thing you need to do is to remove the negative terminal of your car's battery,the best is remove both negative and positive.
Disclaimer:
all operations may be risky, so please ask professional do it or bear your own risk!!
We are not responsible for any risks or responsibilities!!
what will needs:
SONY XAV-AX5000
Scosche LPHA15 (Honda LINK+ Interface with Steering Wheel Control Retention)
Scosche HA1714B ( 2012-Up Honda CRV ISO Double DIN & DIN+Pocket Dash Kit)
Scosche HAA2B ( 2010-Up Honda Antenna Adapter)
Electrical Tape + Electrical Industrial and Electrical Harness Wiring Friction Tape
you need screwdriver and may need Car Panel Removal Tool too
RCA Cable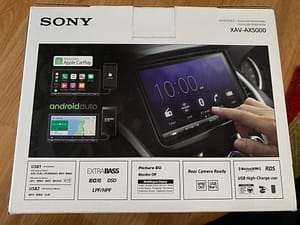 1. Take the old Head unit out https://www.youtube.com/watch?v=MtTw4DURgGw
2. connect the cable from SONY AX5000 with Scosche LPHA15,it is basically matching the color of the cables together,and taped them.
3. Connect the SONY AX5000 to CR-V (three connectors need to connect,left the white color one,because the SONY AX5000 has not connector match it. ),next you will need to remove the OEM Bluetooth connector from the Bluetooth Module and plug the  Bluetooth connector from Scosche LPHA15 to bypass the module. (the OEM Bluetooth Module's location under the shift lever,part number 39775-T0A-A50),connect this Bluetooth then can you setup up the make call, hand up,voice buttons of the steering wheel control on SONY AX5000.
Once open the panel and bezel,you will see the Bluetooth Module inside like this following:
Now you will be able to set up the custom streering wheel control setting on SONY AX5000!!
At this point,the Rear View Camera still not shows on SONY AX5000 yet, you will need to spliting the Video cable from the Upper iMID small Display to connect to SONY AX5000,let's do it!!
To spliting  a connector to SONY AX5000 from iMID Display. you will need a RCA cable, cut the RCA cable and get the wires ready, then tape the Vidoe Center wire to Pin#19 and the Ground wire to #18 from the 32 Pin Connector as picture above,final connect the RCA connector to SONY AX5000, Done!
As the picture follow, the #1 will connect to Pin#19, #2 will be connect to Pin#18!!
Here is the information posted by jacan20 from CRV Owner Club (Thanks so much for the information)
"I cut off one of the ends of the rca cable and stripped away some of the insulation. A rca video cable is comprised of a center cable (video positive) that is surrounded by many very thin ground wires. These ground wire are very fragile and annoying to work with; be very careful with them! Carefully twist only the ground wires together and crimp a male plug of a t-tap on it. Crimp another male end onto the center data positive wire.
Inside the car, attach the female part of a t-tap onto the wire that leads to pin 18. Attach another female part onto then wire that leads into pin 19.
The male plug from the surrounding grounding wires plugs into the female end on pin 18. The male plug from the center data positive plugs into 19. You don't need to mess with pin 14.
The rca plug on the other end of the cable plugs into your new head unit."
Or you can just buy a Camera Adapter Wire like this  to connecot it,
ebay link https://www.ebay.com/itm/Honda-CRV-2012-2016-Rear-View-Camera-Adapter-Wire-Harness-Cable-Video-Connector/362950875926?hash=item54818edb16:g:-WsAAOSwzAxedewV
Here have some pictures from my work for this.
Youtube version:
Here have two website can be help  you if you have question or need to purchase some parts
https://www.sonicelectronix.com/
Sure also Amazon and eBay may can find some cheaper price.
Enjoy!!